Adoption of New Development Economic Development and Stimulus Package – 22 July 2020
At its meeting of 22 July 2020, Council resolved to adopt a range of discounts to encourage an increase in residential development in the Shire.
Tenterfield Shire Council is offering a range of property development discounts, available on water and sewerage charges for multi-residential development (e.g. duplex or units) and subdivision of land in the RU5 Village Zones within Tenterfield Shire Council.
Summary – New Developments:
A 75% discount on Section 64 Water & Sewer Contributions is available in relation to all new developments (such as duplex or units) on an existing parcel of land in the RU5 Village Zone.
50% of total costs must be paid upfront.
A refund of 50% of the fees paid will be made when the Occupation Certificate is issued, if this is within a two (2) year period.
This period is extended to three (3) years for Colonial or Federation Style homes.
If an Occupation Certificate has not been issued during the above timeframes, the developer will be required to pay the remaining 50% of fees.
Summary – Subdivisions:
A 75% discount on Section 64 Water and Sewer Contributions is available on all new subdivisions in the RU5 Village Zone.
Total payment (25% of full fees) is required when survey plans are lodged.
Note: Should an extension to Council's infrastructure (water/sewer) be required to service a new development, this is in addition to any charges/contributions above.  Standard connection fees for water and sewer also apply as per Council's Fees and Charges relevant at the time of connection.
The Residential Property Development Contribution Discounts will be reviewed after two (2) years.
What are the total Developer Contributions Payable for multi-residential or subdivision development – Section 64 Water & Sewer Charges and S7.12 Developer Contributions?
Examples for FY 2020/21: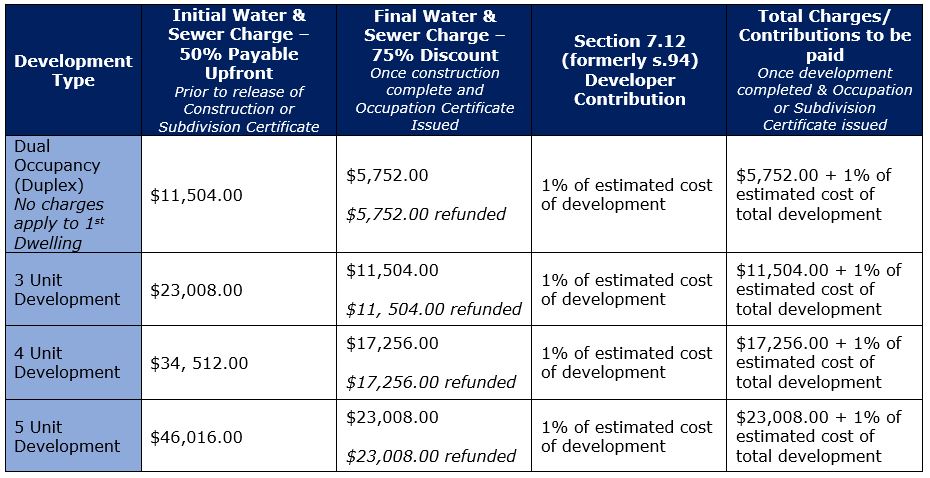 Are the discounts for Water and Sewer Charges applicable if contributions have already been paid for subdivision or residential development in the last 5 years and the Subdivision Certificate or Construction Certificate has been issued?
No.
Council's policy does not apply retrospectively and refunds will not be provided where subdivision or construction certificates have already been issued by Council.
Do the discounts for Water and Sewer Charges apply to any development consents issued in the last 5 years where the Subdivision Certificate has not been issued?
Yes.
Consents issued, which remain valid, contain a condition relating to the payment of Water and Sewer Charges.  The condition states that the charges are reviewed yearly and the amount payable is the amount shown in Council's Fees & Charges at the time of payment.
Section 94 Contributions remain as per the plan they were originally approved under in accordance with the Environmental Planning & Assessment Act 1979 and are not impacted by the new 7.11 & 7.12 plans.
Subdivisions in the RU1 Primary Production Zone
Contributions for subdivision in the RU1 Primary Production zone are as per the adopted Section 7.11 Plan below – no discounts apply and Development Applications lodged or approved prior to the adoption of the new s7.11 Plan containing contribution conditions remain as per the original condition plus CPI adjustments.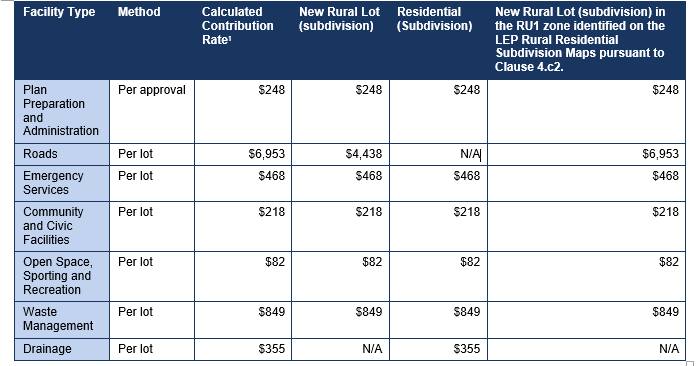 Current at 6 August 2020
For further information, please contact Tenterfield Shire Council's Building & Planning Team on 02 6736 6000 or council@tenterfield.nsw.gov.au.
Download Forms Below