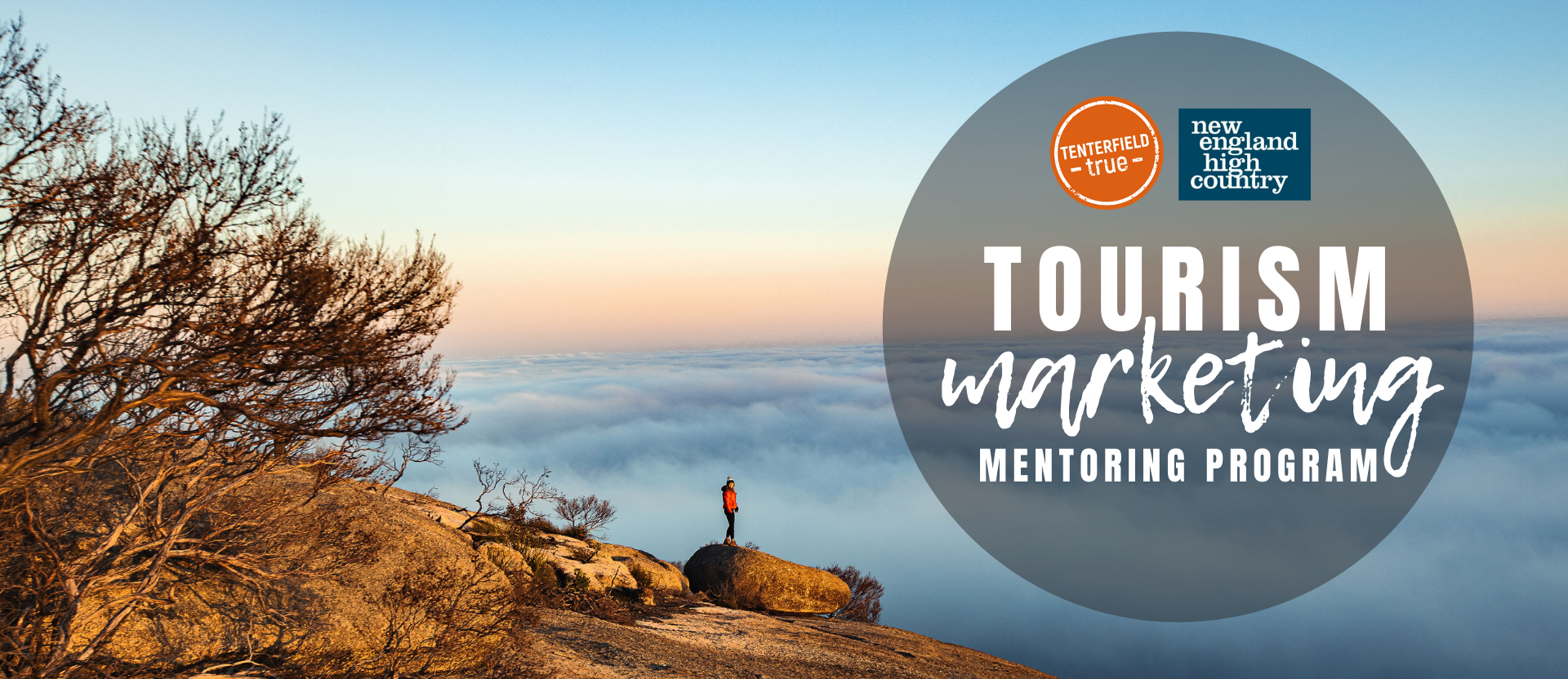 REGISTRATIONS HAVE NOW CLOSED
Thank you to all business representatives who registered for this program. Prior to the commencement of the program, an email will be sent to participants with individual log-in access to the Tourism eSchool's secure member portal. If you have any queries, please contact Emma Johnson, Tourism & Marketing Officer, by emailing e.johnson@tenterfield.nsw.gov.au or phoning 0427 799 052.
ABOUT THE PROGRAM
We know marketing a tourism business can be challenging at the best of times, let alone trying to navigate your way through the current economic landscape that has been thrust upon us.
Tenterfield Shire Council is partnering with the Tourism E-School to deliver an online marketing training program for all businesses within the Tenterfield Shire. An invitation to participate has also been extended to business operators within the New England High Country region. While the focus is on tourism operators, the information shared in the workshops will be relevant to all business operators.
The program has been designed to educate, inspire and empower you to actively develop and market your business to drive demand. The skills learnt through this program will assist your business to deal with the current COVID-19 environment, and provide you with benefits well beyond the global pandemic.
To register for this program – email or phone us today, or fill in the registration form at the bottom of this page. Places are limited – register now! Registration is FREE for all business operators in the Tenterfield Shire.
PROGRAM DELIVERY
The program will be delivered via 6 online webinars (can be watched live or at any time following their release). Webinars will begin on Tuesday 27th October and run through to Tuesday 1st December 2020.
Mentoring via a closed Facebook group will also be offered during the program, and for one month following the completion of the program.
PROGRAM CONTENT
Download program overview here
TOPIC 1 – Tourism Landscape, Experience + Packaging Design + Profiling Customers
Tuesday 27th October 2020 – 10am to 11.30am
Current industry, marketing and consumer insights, and how they impact a tourism experience and it's marketing strategy.
Experience design ideas and working with other tourism businesses to create packages
Identify, profile and complete a customer journey map of your most profitable customers for your businesses strategy
TOPIC 2 – Storytelling
Tuesday 3rd November 2020 – 10am to 11.30am
How to find and tell great stories to grow bookings/sales through social media, website blog and email updates.
How to take better & more engaging photos, short videos and on a smartphone; and how and why to invest in professional photos and videos
How to get stories leveraged by third parties (Visit Tenterfield, New England, Visit NSW)
TOPIC 3 – Website Marketing
Tuesday 10th November 2020 – 10am to 11.30am
The 3 key pillars of a strategic website and best practice website marketing tactics
How to increase website visitor conversion rates into bookings & sales
Key website development and management considerations for new builds or redevelopments
TOPIC 4 – Search Engine Optimisation
Tuesday 17th November 2020 – 10am to 11.30am
How search engine's work and the major ranking factors
How to optimise your content for Google search queries
TOPIC 5 – Social Media
Tuesday 24th November 2020 – 10am to 11.30am
How to improve customer engagement, keep in touch with your community and drive future bookings on Facebook, Instagram & YouTube
Practical tips to increase the engagement and reach of social media posts
How to strategically use Facebook and Instagram advertising
TOPIC 6 – Customer Advocacy, Online Reputation Management + Location Based Marketing
Tuesday 1st December 2020 – 10am to 11.30am
How to easily manage your online reputation
Practical tips on how to get more out of happy customers talking about your business – both on and off line
How to optimise TripAdvisor, Google, Facebook and Instagram Geo Locations for your business
Why Join
It's more than just 'how to' learning…You will have lightbulb 'aha' moments, you will be inspired and feel empowered, and you will walk away with a clear path to push forward confidently with your marketing to grow a sustainable business that will flourish in the future.
By the end of the program, you will:
Understand what you can do right now, mid-crisis
Develop confidence in how to market your business post-crisis
Connect with other tourism businesses on the same journey
SUPPORTED BY

This program is being offered free to all business operators in the Tenterfield Shire, and is supported by the NSW Government and the Community Resilience and Economic Recovery Fund; Tenterfield Shire Council; Tenterfield Chamber of Tourism, Industry and Business; Destination Country and Outback and NSW Government Small Business Month 2020.