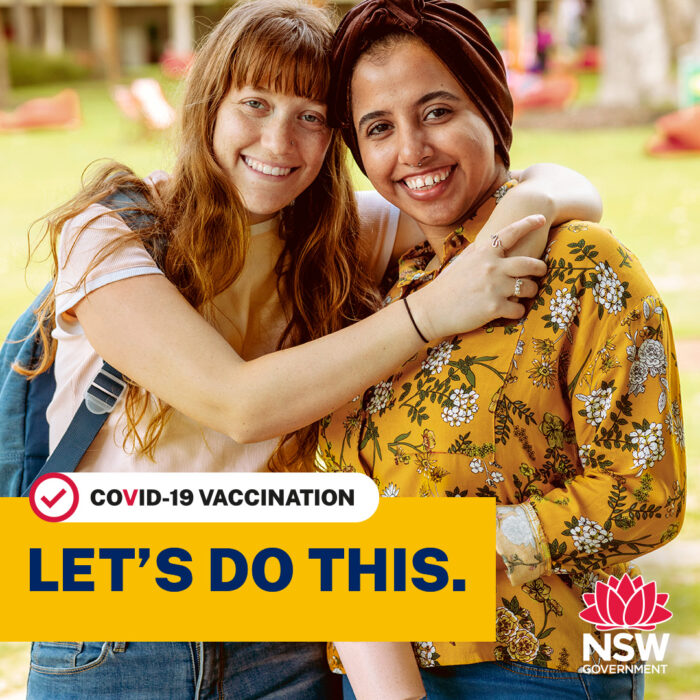 We need to act
COVID-19 is spreading fast in NSW and putting lives and livelihoods at risk.
Vaccination is the best way to protect ourselves, our loved ones and our communities. It will also help us get back to doing the things that we enjoy more quickly.
The COVID-19 vaccine program is working. Many thousands across the state are stepping up to get vaccinated every day. More than 7 million doses have been delivered already.
But our work is not yet done. We need many more people to step forward and get vaccinated now.
Act now
It is strongly recommended that you get vaccinated now with a COVID-19 vaccine. If you've had your first dose, make sure you get your second at the right time.
Two doses gives you around 90% protection against hospitalisation and death from COVID-19. Two doses significantly reduces the risk of spread to people around you
Everyone 12 and over can get a vaccine. Book today. Don't delay. COVID-19 vaccines are safe, effective and free.
Protect yourself and your loved ones now. Make sure your parents and grandparents are vaccinated too, they are at greatest risk. Help protect your community now and get businesses everywhere open again.
Appointments are available at more than 3,000 GPs, pharmacies, Aboriginal Medical Services and NSW Health vaccination clinics across NSW.
Speak to your local GP or pharmacist or visit nsw.gov.au to make a booking.
There's good reason to act
COVID-19 can be a very serious illness, and you can't predict who will get very unwell.
The risk of serious illness and death increases with age. However, COVID-19 isn't just affectingthe elderly – many young people are becomingvery sick. Around 60% of people with COVID-19 are under 40, with some needing intensive care.
The sooner we are protected, the sooner we can bounce back. Let's get back to our way of life. Vaccination can help get us get there.
Let's get visitors to our regions, travel, get family back home and our state back to business. Book your vaccination today.
Let's get back to doing the things we love. Let's do this NSW.
Coronavirus (COVID-19) Information
Public Health Orders Public health orders have been issued to protect the community and reduce the spread of COVID-19 infection. For a full list of current public health orders, including rules for gatherings, public places and businesses, visit: https://preview.nsw.gov.au/covid-19/public-health-orders
Testing in Tenterfield – Tentefield Hospital Emergency Department
Australian Government – Department of Health
Primary Health Network Hunter New England and Central Coast
National COVID-19 Safe Workplace Principals
Support for Businesses
Service NSW – Grants, Loans & Financial Assistance
Service NSW Business Concierge
Australian Government – Support for Businesses & JobKeeper Payment
Australian Government – Business
COVID-19 (coronavirus) FAQS for the Liquor and Gaming Industries
Support for Individuals & Households
Australian Government – The Treasury – Supporting Individuals and Households
Good360 is a matchmaker, connecting surplus retail product to Australians in need, particularly during disaster relief
Training Services NSW – COVID-19 Update
Mental Health and Well-being
NSW Government  $73 Million to Support Mental Wellness During COVID-19 Pandemic
Managing Your Mental Health During COVID-19 – Factsheet of Online Supports
World Health Organisation – Mental Health Considerations
R U OK? – Staying Connected is More Important Than Ever – A Conversation Could Change a Life.
Lifeline – Mental Health and Wellbeing during the Coronavirus COVID-19 outbreak
Red Cross Online Support
Head to Health COVID-19 Support
Emerging Minds. National Workforce Centre for Child Mental Health: Talking to Children About Natural Disasters, Traumatic Events, or Worries About the Future
GIVIT is currently offering support for a number of campaigns including COVID-19
Headspace – Information for Young People Affected by Stress Related to COVID-19
National Dementia Hotline – 1800 100 500
The Office of the Advocate for Children and Young People (ACYP) has recently launched a new website called Digital Lunchbreak. This youth friendly platform has collated all the wonderful resources and activities that have recently emerged for children and young people in response to COVID-19. The new Digital Lunchbreak website assists children and young people with finding online resources and activities to do at home in their lunchbreak, around learning hours and on weekends during the current social distancing measures. www.digitallunchbreak.nsw.gov.au