WOODWARD, OLIVER HOLMES (1885-1966), mining engineer, metallurgist and soldier, was born on 8 October 1885 at Tenterfield in this, his Grandparents cottage.
His father was S A Woodward, storekeeper from Sydney, and his mother Jemima Johnstone, nee Reid from Tenterfield.  He was educated at Drake, Tenterfield and for two years at Newington College, Sydney.
His first job was with his Uncle John Reid in the flour mill workshop and then at Tent Hill mining tin.
Oliver joined John Moffat at Irvinebank North Queensland, was followed by three years at Charters Towers where he worked and studied part time at the School of Mines.  In 1909 he was awarded a medal for mining and metallurgy. He qualified him as a mine-manager working with Mount Morgan and in Papua where he assisted the geologist (Sir) Colin Fraser.
When WW1 commenced he returned to Australia and left the protected mining industry when his cousin James Moffat Reid was killed at Gallipoli enlisting in the AIF gaining a commission with Mining Battalion.
He sailed for France in March 1916 and in Flanders joined 1st Tunnelling Company became an independent engineer unit.
Deployed Armentieres, France, the company fought on the surface as well as underground. In June 1916 Woodward won his first Military Cross for blowing up a snipers' post in no man's land.
Early in 1917 the company took over a mine that included deep galleries under the German lines with two charges, one with 24,041kg of explosives and the other with 31,752kg.  For months the company protected these mines, using listening posts and counter-mines, until the battle of Messines when they were fired with devastating effect.  Woodward, by this time a captain, headed the team in charge and personally fired the mines.
From August 1918 the tunnelling companies were employed on the surface as field engineers.  On 29 September at Bony, east of Amiens, France, Woodward oversaw three sections of the 1st Tunnelling Company and came under enemy fire; he once more distinguished himself by his courage and resourcefulness, and was awarded a Bar to his Military Cross.
In the last weeks of the war his section was attached to the 1st British Division for its advance to the Rhine.  For the crossing of the Sambre-Oise Canal east of Le Cateau, his men – under heavy fire – built a tank bridge spanning the walls of a lock; Woodward received a second Bar to his Military Cross, an extremely rare distinction.
Returning to Australia in May 1919, he went to the Mount Morgan Gold Mining Co. then at Port Pirie, SA, as a metallurgist with Broken Hill Associated Smelters, of which Fraser was joint managing director.  On 3 September 1920 Woodward married Marjorie Moffat Waddell in, Brisbane.  He became plant and general superintendent at Port Pirie.
Over the nine years he supervised extensive rebuilding and metallurgical developments with steady improvements in living and working conditions for employees.
With the support of Sir C Fraser and W. S. Robinson, in November 1934 Woodward became general manager of North Broken Hill Ltd.  His thirteen years at Broken Hill witnessed a modernizing of surface plant and reopening the British Broken Hill mine, idle since 1930.
In 1940 Woodward became president of the Australasian Institute of Mining and Metallurgy, joined the board of North Broken Hill Ltd in December 1944 and remained 8 October 1947.
For his contribution to the mining industry he was appointed C.M.G. in 1956.
Woodward had written an autobiography and accounts of his wartime experiences and of the Broken Hill mining industry.  He died there on 24 August 1966 in Hobart and was survived by his wife, a daughter and two sons. His plaque is in the Cornelian Bay Cemetery, Hobart.
O H Woodwards writings were used for the background of the fiction based account in the Movie "Beneath Hill 60".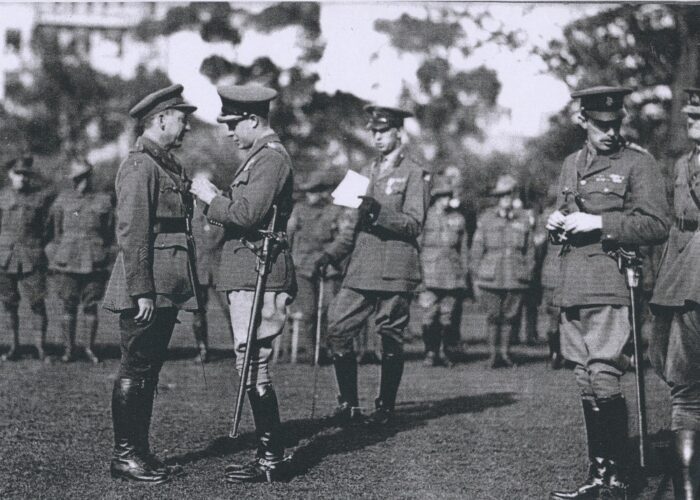 Capt. O.H. Woodward being presented with the Military Cross and two Bars by H.R.H. The Prince of Wales at in the Government House Grounds, Adelaide on 13th July, 1920. The Prince later became King Edward VIII