Community Recycling Centres (CRCs) are permanent drop-off centres for common household problem wastes that can't be collected via council kerbside waste and recycling collection services. NSW householders can drop off problem wastes at these centres year round, free of charge.
To better protect our environment and the health of the community, the EPA is funding new and enhanced CRCs across NSW. Local councils and other organisations operate these centres in partnership with the EPA. Funding for the centres comes from the waste levy, as part of Waste Less, Recycle More.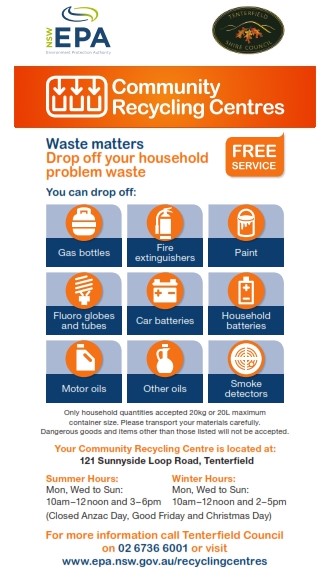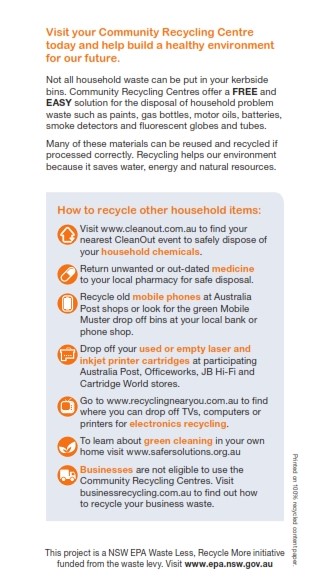 What happens to waste items after they have been dropped off?
Paints are mixed with other waste solvents and used as an alternative to fuel in cement kilns. The metal containers are recycled.
Lead acid batteries are sent to recyclers where the lead, acid and plastic are recovered and recycled.
Fluorescent tubes and globes contain mercury. Recyclers crush the tubes to separate the phosphor powder from the glass. They feed the powder through receiving containers, where it is filtered to capture fugitive mercury emissions. The mercury is then separated by distillation and sold for a range of industrial uses. The metals are also recycled.
Gas bottles have residual gas captured for reuse. Undamaged bottles are retested, restamped and entered into the hire industry. Damaged bottles are punctured and recycled as scrap metal.